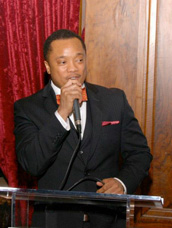 Omar Nigel Moore M.A. M.Ed – COO
With a healthy respect for the past, inhabiting the present and being fully engaged in what's to come; Omar Moore is a true futurist and innovator. Inspired by his high school English teacher telling him "You are only limited by your aspirations", he used this as his mantra to carve nearly two decades of an impressive professional career. From his education through his employment and including his founding of three successful organizations, He is proof that the best way to predict the future is to create it.
With exceptional deductive reasoning skills, a calm resolve, an affinity for systems thinking, and an advanced understanding of group dynamics, Omar Moore has been known as a stalwart in nearly every organization he has been associated with. His leadership has spearheaded change and empowered others to not only
overcome the challenges they face, but also have enthusiasm and vision for the successes that lay ahead. He has the unique ability to connect with and challenge people to reach new heights, both professionally and personally.
Since early in his career, Omar's leadership has been recognized, which has led to many team leader, coordinator and supervisory positions throughout his career. His work in case management, project management, crisis prevention and intervention, group facilitation, mentoring and counseling, special events coordination, risk management and safety assessment, and project-based learning all were rewarded with promotions to leadership, positions in staff training and supervision, and advanced organizational responsibility. This experience served as foundation to start his own consultation business (A.R.T.S.), which has allowed him to organize structure, teach stress management and implement systems for several quality clients. Omar has also been forward-thinking in using his resources in the entertainment industry to create a company (Black Light Entertainment), which fuses entertainment and education as an engagement piece to motivate inner-city youth to succeed in school. While working as Director of Operations for an alternative high school, he was able to use these combined skills to implement policy and procedure to help restructure and remove the school from probation and begin the pilot for a media-arts based alternative school. He is co-founder of CIRCLE Foundation of which he is currently Co-Chairman and COO.
Omar has served as advisor and consultant for many organizations including:
ITT Technical Institute, Southern Illinois University, Roosevelt University, Youth Service Project, Inner Arts Counseling Services, Adapt of Illinois, Touch of Nature Environmental Center, Chicago Youth Centers, The National Black Expo, K.L.E.O Community Center.
Omar's solid educational background includes a bachelor's degree in psychology from Southern Illinois University at Carbondale, and both a master's degree in clinical psychology, and an advanced certification in stress management from Roosevelt University and a master's degree in Educational Leadership from Northeastern Illinois University.
Omar has been involved in several professional and service organizations including:
Alpha Phi Alpha Fraternity Inc, American Psychological Association, Roosevelt University Stress Institute, Midwest Pain Society, ASCD, World Future Society